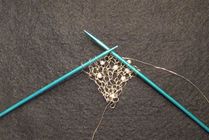 About my jewelry
My distinctive knit wire jewelry is designed using a variety of knitting techniques, types of wire and material. Inspirations come from nature and traditional knitting patterns, as well as taking advantage of the unique properties of wire. I knit each item individually, and while you can expect a high degree of similarity to what is on the website, each handmade piece is one of a kind.
Freshwater pearls, seaglass, beads and small objects found collected from around the world are among the interesting element added to these original pieces of jewelry.
All designs can be made in sterling silver or gold-filled gold wire, as well as many colors of silver-plated wire.
Jewelry knit with wire is incredibly light and durable. If it gets bent a bit out of shape, it can be restored to its original shape easily.
All earring wires are hypo-allergenic, with nickel free wires available upon request.
I am happy to discuss custom-designed pieces, Integrating your own special beads, stones and mementos with the wire color, material and pattern of your choice.