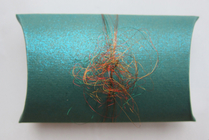 Inquiries and pricing
Earrings from €45/$55 to €120/$130.
Necklaces from €55/$65 to €150/$170.
Check the 'Links' page to find where the jewelry is currently being sold.
Contact me to inquire about the price of a specific item, to order, or to make an appointment to see the jewelry in person.
Many of the items shown online are available immediately. As each piece is individually crafted, often with one-of-a-kind beads and ornaments, I may not be able to duplicate a specific piece if it has been sold. However, with all the wonderful pearls, seaglass, beads, colors and types of wire that are available, we're sure to create a special piece just for you.